"Hazel"

D.O.B: Mar 12th 2009
Owner: Ms M Demireva
Breeder: Mr J R & Mrs S C Crook
Hips: 5/6 (BVA)
Elbows: 0/0 (BVA)
Eyes: Clear annually
prcd-PRA: Hereditary Clear
EIC: N/N Clear
Chocolate bitch

Bulgarian Champion
Bulgarian Club Winner
Serbian Club Winner
Working Test passed 1st Prize
Hazel is awaiting the Rainbow bridge at the moment...
...until we meet again...
12.03.2009 - 18.07.2014

Thank you for let me be part of your life...
I know were happy... and I love you forever...

* * *


(click on some of the dogs name of the pedigree to open their picture in lightbox)




Hazel is line bred in 5 generation pedigree:
4 - 2 ...... to Balrion Oceans Apart
5 - 4 ...... to ShCh Cambremer All That Jazz
5 - 5,5 ... to GBCh Kupros Master Mariner
Show adventures :)

date

show

judge

class

result

12.10.2013
Specialty Club Show, Tata, Hungary
Tina Herman (SLO)
Champions
Exc. I, CW, CAC
28.09.2013
8th Specialty club show BNKLR
Felicity Leith-Ross (FR)
Open
Exc. I, CW, second BEST BITCH with Res. CAC
19.07.2012
Int.CACIB show Varna
Crufs Qualifications
Tomas Jakel (HU)

Champions

Exc. I, CAC, Res. CACIB
14.06.2012
Int. CACIB Show Aheloy
-
Open
Exc. I, CC, 2nd Best Bitch with R.CACIB -> BULGARIAN CHAMPION
12.06.2012
Int. CACIB Show Aheloy
Mr. Stefan Popov (BG)
Open
Exc. I, CC, 2nd Best Bitch with R.CACIB
09.06.2012
Special Show for Retrievers Beograd
Mrs. Margaret Brown (UK)
Open
Exc. II, Res. CC!!
08.10.2011
Hungarian Retriever Club Show
Mrs. Marilyn Prior (UK)
Open
Exc. II, Res. CC!!
01.10.2011
Special Retriever Club Show Paracin
Mr. Lean Moran (IRL)
Open
Exc. I, CC Best Bitch - Serbian Club Winner!
05.09.2011
Special LR Club Show Sofia
Mrs. Carol Coode (UK)
Open
Exc. I, Bitch CC, BOSS, BISS female (competition with other retrievers) Bulgarian Club Champion!

Judge critiques...
"4.5 years old. Excellent type. Lovely balanced. Very lovely head and expression. Excellent reach of neck. Excellent topline and tail. Well angulated in front and behind. Good strong body. Excellent coat. Moving very well. Lovely temperament. Very worthy champion."
Ms. Tina Herman, Slovenia

"Beautiful head and expression in this chocolate, strong clean neck. Well constructed and balanced from nose to tail. First class coat, so well presented, moved extremely well, must have a very interesting future."
Mrs. Margaret Brown, UK, "Ramsayville" labradors
Hazel 5 years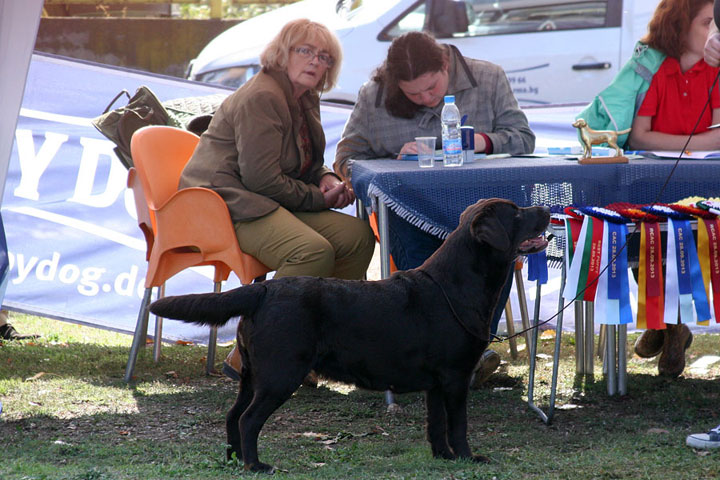 Hazel on her 4th Birthday



Hazel, Christmas morning 2012

2 years old on the picture

Hazel and her best friend our lovely Greenie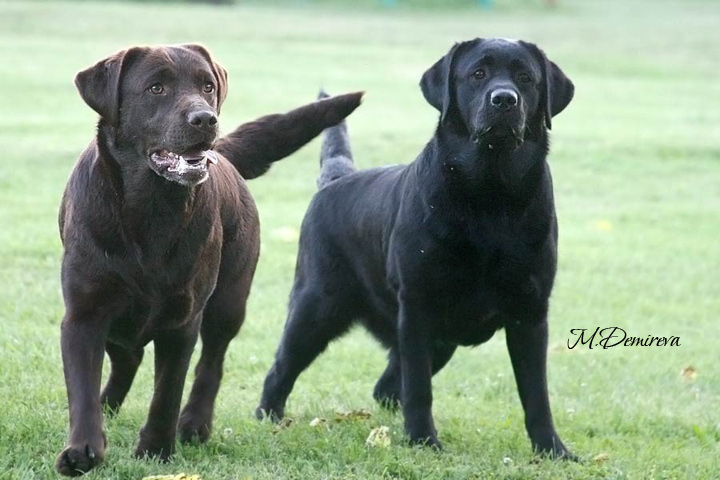 Best Bitch and CC at her very first show under Mrs Carole Coode (UK)


PLEASE DO NOT COPY OUR PHOTOGRAPHS WITHOUT OUR PERMISSION!
© The photos on this site are protected by copyright. The unauthorized use of the photos is illegal.